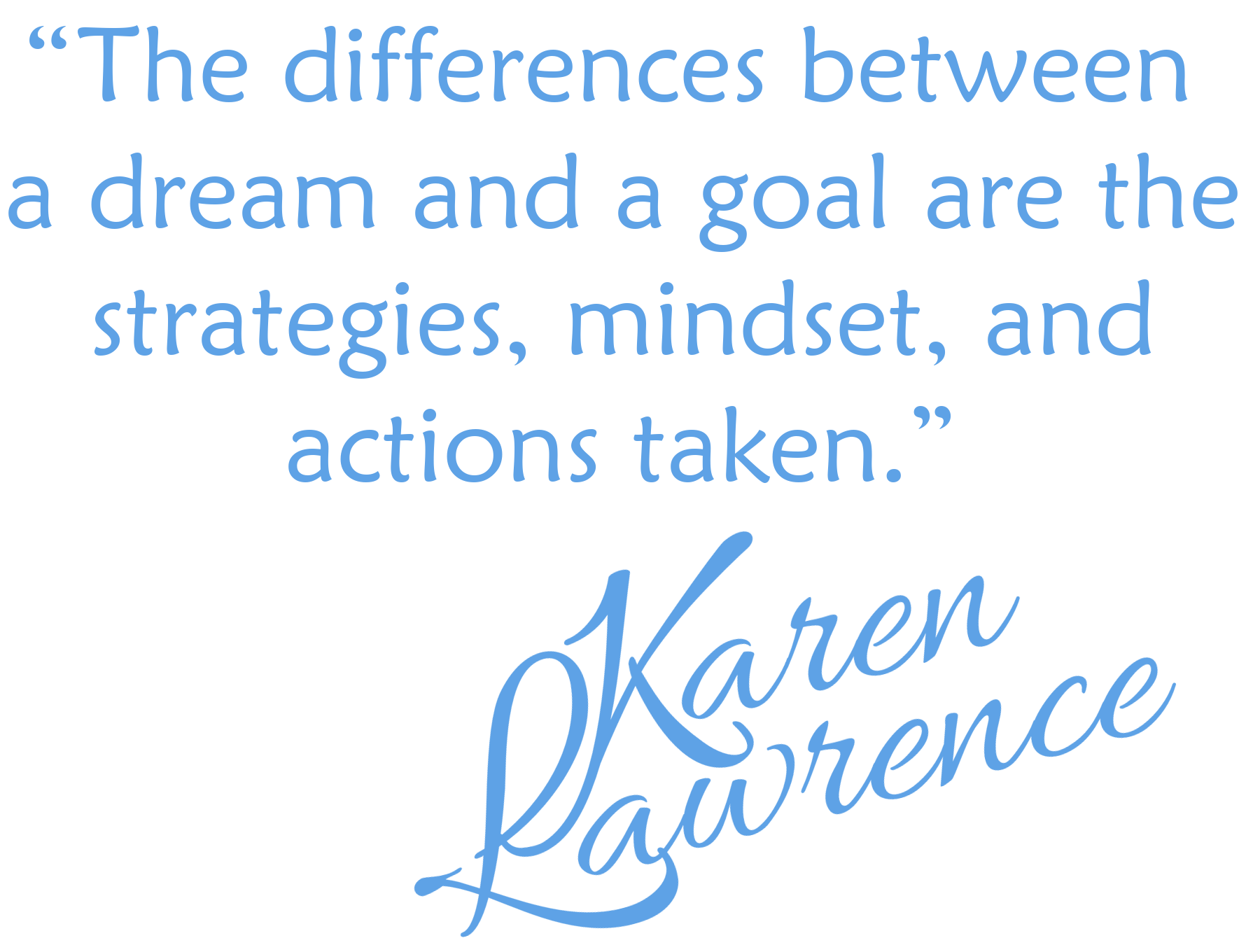 Are you a business owner who just can't catch a break? 
Do you feel like you've tried everything, but nothing works?
Anything can be accomplished with the right plan and tools!  The way to get the results you want in business starts with a clear vision and goal.  Sure, you may need to learn some techniques or sharpen some skills. But, once you have a solid plan in place, the rest is simple implementation.  I'll help you get on the right path – lift you over the bumps and guide you around the curves.  We'll refine the details along the way!
Bring me your dream – we'll turn it into a goal.
Bring me your goal – we'll turn it into a strategic plan.
The following is a true story that very few people have heard.  However, I feel like now is the right time as I am finally getting over my embarrassment and know that there is a huge lesson to share.  Many years ago, my dream client was sitting right in front of...
Psst… People are talking about Karen.  Click here to read more.
When I met Karen I was in a rut in my business.  Previously, I had a horrible experience working with a coach so I was VERY apprehensive of working with one again, but I knew I needed it. On our first call I was blown away! She pointed out things I had never thought of and in just ONE call had figured out what was causing my rut AND provided solutions. I immediately bought a package and am now on my 2nd. What I have accomplished in such a short amount of time with Karen is unbelievable and I can't even imagine her not being a part of my business. I'm incredibly excited for the future of my business and the greater success to come from working with her.
Karen's extensive knowledge and experience in all aspects of business has been essential to me as an entrepreneur. Karen is an expert in marketing, sales, and much more. She showed me how to market my services and present my business in a way that truly honors the people I serve and attracts new clients. In addition to providing business advising, Karen has supported me through the emotional ups and downs that come with owning a business. I would definitely recommend "Karen's Edge" to any new or experienced entrepreneur.
I met Karen at one of the meetup groups that she hosts and was not looking for a business coach at the time. However, shortly thereafter I realized I needed a business coach and was able to speak with a few of them. The one thing that stuck in my mind about Karen is her focus on sales and improving sales which is what I wanted to focus on. I had a follow up call with her after the meetup and even on that free call she provided value with her insights and advice. The next day I hired her. We have been working together for a few months now and I feel better about myself, about my business, and I have the advice that I need. Karen has helped me with many of my fears and challenges already. She is so easy to speak to, helps you gain perspective on your business and has excellent ideas for improvement.
  Click here to read more about what people are saying.